iCap- official Website
Protect notebooks & Netbooks against sun, glare, heat, rain, sand and other influences!
The new iCap modells in 3 sizes of the PRO and Classic Version: MIN, MID & MAX
- small, deep enough, functional and nice.
- specially developed, opaque (does not let light through), waterproof, anti scrach coated reflective fabrics.
- 5 side slit openings on every side for ventilating, for cables and for USB Sticks.
- Side flaps for covering the side openings and protect against rain.
- 2 tension belts to reduce the front opening and stabilize or adjust iCap on 2 clew buckles.
- 2 hook-and-loop buckle belts to fixate against wind.
- Handle to carry iCap together with its content.
Excellence in outdoor laptop / notebook / MacBook protection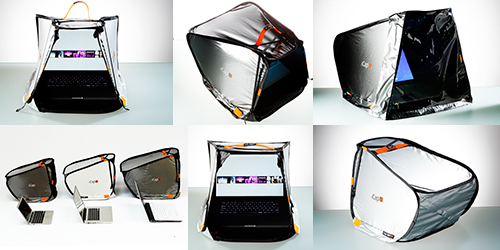 PRO Sports
Photgraphers
in action

Jason Brown:
"Dear Savvas I have already been
passing on great comments to
fellow photographers over
here
as to how good it has been.
mn On all the matches
I've used it on, I've not
encountered
any issues yet. Thanks again
Jason Brown"

Phil Duncan:

"Hi loving the icap!
Taken at the England v
Australia t20 Cricket match
at the Ageas Bowl, Southampton, 2013"

Christian Kolbert in Action in the German Bundesliga.

Christian uses an iCap MIN PRO, which he fixated with its 2 hook/loop belts on a tripod with a plate.